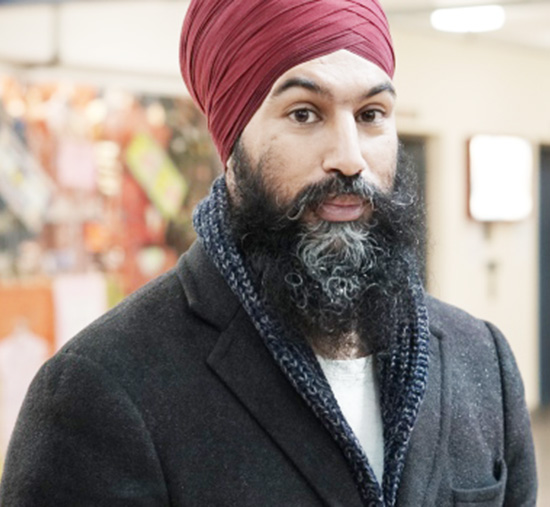 It looks like NDP Leader Jagmeet Singh is getting married, but don't expect him to talk about it just yet. On Sunday, photos and video of a ceremony featuring Singh, 38, and a woman named Gurkiran Kaur Sidhu began appearing on social media. Several posts congratulated him on his "engagement," including a video posted to Instagram by DJ KSquare. But according to Singh's press secretary, James Smith, Singh is emphatically NOT engaged. "It's not an engagement; it's not a wedding," Smith told the Post on Monday morning. "That's all I can say right now." He said any social media posts that say otherwise are "incorrect."
Later, Smith confirmed that the ceremony was a "celebration of the families meeting for the first time." He said the couple doesn't want the event to be confused with an engagement. "They don't want to hide this," he said. "They just don't want it to be misinterpreted."
The ceremony was similar to a roka — a ceremony that precedes some Indian weddings — though Smith said Singh isn't using that term. A roka is a formal meeting of the two families that confirms the couple's relationship.
The NDP leader may not yet be engaged, but that hasn't stopped anyone from jumping to conclusions. In an Instagram post Monday morning, Toronto wedding photographer Gagandeep Singh congratulated the couple, referring to them as the "future Prime Minister of Canada" and "future First Lady."
On Monday, Smith said the ceremony was "more than bringing your partner home to meet your folks for the first time," but that it would be unfair to label a first formal meeting of the families an engagement. He said no public announcement is planned "for the near future."
Sidhu is the co-founder of Jangiiro, which describes itself on Facebook as a "new-age Punjabi clothing line" in the Toronto area. She and her company both appear to have posted photos of the ceremony on Instagram on Sunday, but they have since been taken down. Sidhu appears to have since deleted some of her social media accounts.
Huffington Post Canada reported that Singh was a bachelor in January, but Sidhu was with him when he won the NDP leadership in October.