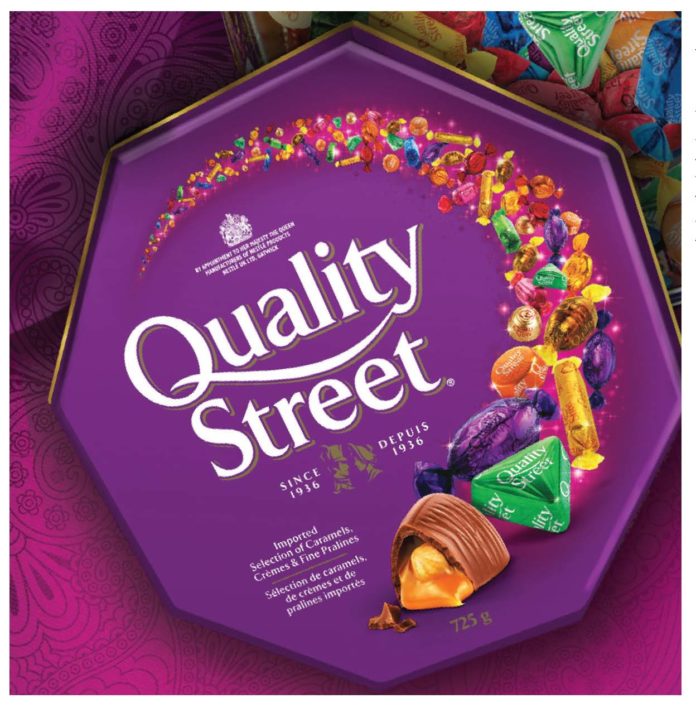 Beginning today, Quality Street chocolates and caramels are now available in newly redesigned tins, just in time for Diwali celebrations.
The new Quality Street tin design contains an assortment of imported chocolates and caramels and this year Quality Street introduces a new indulgent sweet: honeycomb crunch. Each chocolate and caramel is individually wrapped in bright jewel colours making it an excellent gift choice that is sure to make any Diwali celebration brighter.
For the past few years, Quality Street has celebrated Diwali with the Canadian South Asian community. These newly designed tins and new honeycomb crunch sweet will spark joy and excitement during this holiday as the perfect gift for family and friends to share.
On October 21st and 22nd, Nestlé Canada Quality Street will also showcase the new tin design at DiwaliFest, a free indoor event at the Bramalea Centre Mall in Brampton celebrating this South Asian festival of lights.
ABOUT DIWALI
Diwali is one of the most well-known South Asian festivals. It is known as the 'festival of lights' because houses, shops and public places are decorated with diyas, candles and colourful lights on this occasion. In Canada, as in India, the festival is a time for fall cleaning, wearing new clothes, and exchanging gifts, sweets and chocolates.
ABOUT NESTLÉ CANADA
Backed by more than a century of research and experience, Nestlé Canada's vision is to be Canada's number one food and beverage company, helping Canadians live healthier and happier lives. Nestlé in Canada manufactures some of the world's most recognized and trusted brands, including BLACK MAGIC, GOOD START, HÄAGEN-DAZS, KIT KAT, LEAN CUISINE, NESCAFÉ, NESQUIK, NESTLÉ DRUMSTICK, NESTLÉ PROFESSIONAL, NESTLÉ PURE LIFE, STOUFFER'S and Nestlé Purina BENEFUL. Nestlé in Canada employs approximately 3,600 people in 21 manufacturing sites, sales offices and distribution centres across the country.
For more information, please visit http://diwali.qualitystreet.ca/