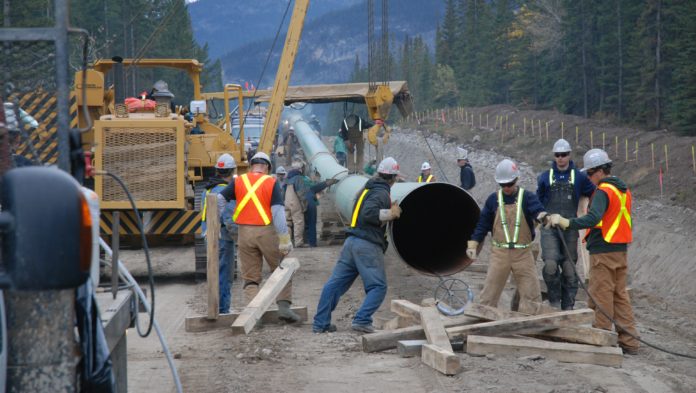 Trans Mountain pipeline expansion remains stuck in gridlock following a Sunday morning meeting between Premier John Horgan, Premier Rachel Notley and Prime Minister Justin Trudeau.
The meeting between the three leaders was a last ditch effort to talk things out before Trudeau takes off for an international trip Sunday night.
According to B.C.'s premier, it didn't produce any results.
"We continue to disagree on the question of moving diluted bitumen from Alberta to the Port of Vancouver," Horgan said following the meeting.
"We remain committed to ensuring we're protecting our jurisdiction in this regard."
Kinder Morgan's Trans Mountain expansion project would twin an existing oil pipeline that extends from central Alberta to the west coast.
Kinder Morgan suspended all "non-essential" work on the project last Sunday, saying that it couldn't justify the cost of continuing construction as B.C.'s government fought the pipeline in court. The company said it would make a final decision on the pipeline by May 31.
The deadline may be too short for the court system. Currently, B.C. and the City of Burnaby are awaiting a Supreme Court of Canada decision on whether it will consider a lower court decision that denied Burnaby leave to appeal a ruling by the National Energy Board.
Horgan said that the court challenge was the logical way to deal with jurisdictional conflicts and said that B.C. will "abide" by the court's decision
In a separate case, the province still needs to submit a reference question to the courts about whether it has the jurisdiction to limit the transport of bitumen through B.C.
Jurisdiction has been a heated sticking point between B.C. and Ottawa, with Horgan turning to Quebec's premier on the importance of asserting provincial jurisdiction.At a press conference following the meeting, Notley said that the "constitutional crisis" B.C. is creating costs nearly $40 million a day.  She confirmed Alberta's interest in financially backing the Trans Mountain expansion, even going so far as buying out the $7.4 billion project.
Notley called B.C.'s actions a "considered attempt to create uncertainty" and said Alberta won't engage in "esoteric debates" meant to "to harass a project to death."
Horgan said that the "federal government laid out their plans" in regards to moving the Trans Mountain pipeline expansion forward but deferred any questions on those plans to federal officials.
"[Trudeau] said the federal government will moving with legislative and financial measures in the days ahead," Horgan said.
"He didn't go into the details with me."
Horgan and Trudeau did agree to "address the gaps" in the $1.5 billion federal Ocean Protection Plan.