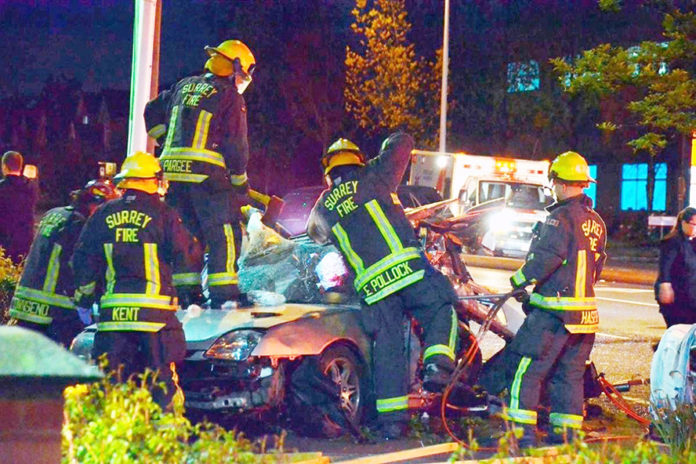 Surrey woman in custody and police are 'looking strongly' at impaired driving and speeding as factors
Cloverdale BC — Teens in hospital after a serious car crash in Cloverdale on Wednesday night. In which one vehicle was involved in two separate crashes, police said.  A caller told police a black Cadillac involved in a collision around 9pm with a vehicle near 64th Avenue and 168th Street, Cloverdale side of Surrey BC.  "She fled the scene," Surrey RCMP Corporal Scotty Schumann said.  Police say the Cadillac then hit the back of a grey Honda Prelude on 64th Avenue just west of 176th Street (Highway 15), pushing the vehicle into the Shell gas station.  The Honda then hit the fuel pump, according to police.
Three people inside the Honda were trapped, and though they were freed by members of Surrey Fire Department, all were hurt.
The driver of the Honda was a 17-year-old boy, police say. His condition is serious and unstable.
The frontseat passenger, a 17-year-old girl, was taken to hospital with serious injuries but they're not considered to be life-threatening.
Another young person riding in the back seat of the Prelude sustained minor injuries.
Allison Keating heard the crash.
"It was absolutely horrific," she said. "I was there with my daughter, coming home from Splitz gymnastics about 30 to 45 seconds after it happened. We heard the impact but didn't see it.
"So terrifying," added Keating. "I'm praying for everyone who was injured."
Police say the woman driving the Cadillac was a 22-year-old Surrey resident. She was detained at the scene of the second crash and sustained minor injuries.
She remains in custody.
Schumann said police are "looking strongly" at impaired driving and speeding as being factors.
The same intersection has seen numerous serious collisions over the years, including a fatal crash in 2010.
Surrey RCMP are asking anyone who witnessed either collision to call them at 604-599-0502.