Police in BC are looking into an extremely racist confrontation caught on video.
On Friday evening, a bylaw officer was issuing a ticket to a truck illegally parked in a reserved spot in Abbotsford. A man in the vehicle became "increasingly aggressive" and "very threatening" to the officer, said Abbotsford police Sgt. Judy Bird.
A passerby began to record the incident, Bird told The Huffington Post BC. That's when the agitated man turned his attention to the person who was filming.
"You f***in' P*ki," he says, walking right up to the camera. "Go back to f***ing India."
He returns to the truck and then proudly thumps his chest while shouting, "White power, motherf***er!"
In the more than two minutes of the tirade posted to YouTube, the man also calls the South Asian witness a "camel-riding motherf****er."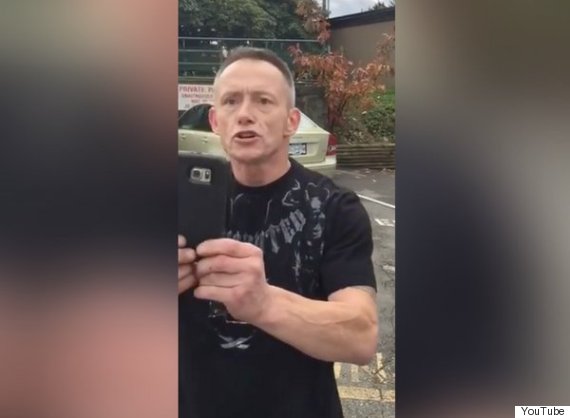 A man yelled racial slurs at a South Asian witness filming in downtown Abbotsford.
Bird said that because the incident happened on a Friday evening, police are still in the process of collecting statements, identifying witnesses, and considering what charges, if any, could be laid.
"We are very disappointed that this type of mentality still exists in our society," Bird said in an interview. "And sometimes it just rears its ugly head to remind us it's still there."
She noted that it's important for people who witness this "poor behaviour" to call police so "we can take care of this to make sure there is not violence or aggression that follows."
She said that the man in the video has been identified, and noted that the "KK" in his licence plate — which can be clearly seen in the video — is a coincidence, and not any kind of official provincial vanity plate.
Abbotsford is a city about 70 kilometres east of Vancouver mainland.