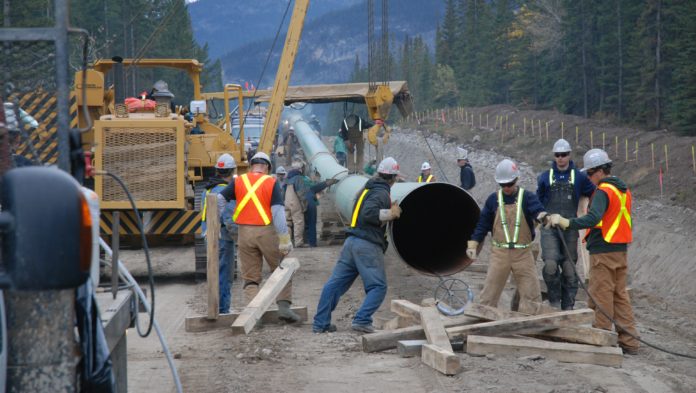 BC will file a reference case in the provincial Court of Appeal by the end of this month to determine if it has jurisdiction over the Trans Mountain pipeline expansion project.
Attorney General David Eby made the announcement on Wednesday.
"This process is about BC's right under the Constitution to regulate against the deleterious impacts on the environment, on the economy, on the provincial interests — whether it's an inter-provincial project or a provincial project," Eby told reporters at the Legislature on Wednesday.
In Canadian law, governments submit a reference question to the courts to ask for an advisory opinion on a major legal issue.
Thousands of people march during a protest against the Kinder Morgan Trans Mountain Pipeline expansion in Vancouver on Nov. 19, 2016. The proposed $7.4-billion expansion would nearly triple the capacity of the pipeline that carries crude oil from near Edmonton to the Vancouver area to be loaded on tankers and shipped overseas.

The filing is BC's latest move in the ongoing deadlock between the western province and Alberta over the $7.4-billion project, which runs from Edmonton to Burnaby.
The federal and Alberta governments support the project, while BC says it's defending its coast from a potentially catastrophic oil products spill.
 After that, Trudeau called a last-minute meeting with Alberta Premier Rachel Notley and  Premier John Horgan. The political leaders met Sunday in Ottawa to discuss the pipeline and the ongoing deadlock, but their positions remained unchanged.
The prime minister repeated Ottawa's commitment to ensure the project is finished, saying his government will hold private, financial talks with Kinder Morgan in order to move forward.
Prime Minister Justin Trudeau with Premier John Horgan, left, and Alberta Premier Rachel Notley before a meeting Sunday in Ottawa.

The federal government will be notified of BC's intention to file a reference case, which will need to go through provincial cabinet before it's filed.
It's entirely up to the court to set a date for the hearing, so Eby couldn't say whether BC will have its day in court before Kinder Morgan's May 31 deadline.
However, the attorney general said the province deliberately chose to go to its own highest court in the interest of time — he said the government could have asked the federal government if it wanted to submit a joint reference question, in which case the issue could've gone straight to the Supreme Court of Canada, but that may have taken longer.
Opponents of the Kinder Morgan oil pipeline protested outside a Liberal Party fundraising event in Vancouve on April 5.

"One of the big factors in forming our decision to go to the Court of Appeal was our desire to get finality around this as soon as possible," Eby said. "As far as what we're able to do [on our own] by law, we're only able to go to the BC Court of Appeal."
Asked if BC would take the battle to the Supreme Court of Canada if it wasn't satisfied by the outcome in provincial court, Eby said the province would "cross that bridge when we come to it."