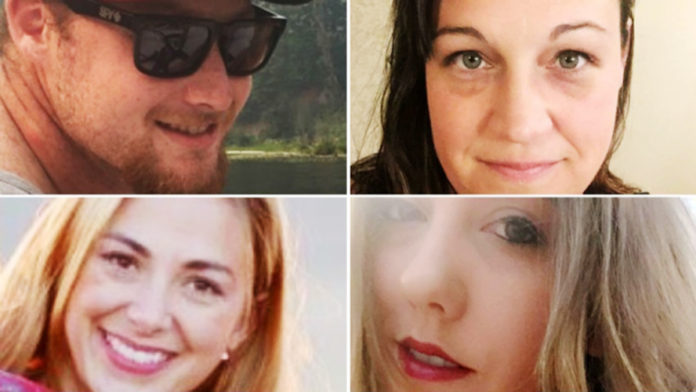 Four Canadians died in Las Vegas, USA shooting spree. Clockwise from top left: Jordan McIldoon, 23, of Maple Ridge, BC, Jessica Klymchuk, 34, of Valleyview, Alberta, Calla Medig, 28, of Jasper, Alberta, and Tara Roe, 34, of Okotoks, Alberta.
4th Canadian confirmed dead in mass shooting outside a US hotel
A fourth Canadian has died in the wake of Sunday's mass shooting in Las Vegas, media confirmed.  Sources close to the family of Calgary-area resident Tara Roe, 34, said she was among the spectators at an outdoor music festival where Sunday night's shooting left dozens of people dead.
The mother of two young children, who was originally from Brandon, Man., became separated from her husband and friends when a gunman opened fire from 32nd floor of the Mandalay Bay hotel across the street from the country music show.
Tara Roe, from Okotoks, Alta., was among the 59 people, including three other Canadians, killed in the mass shooting in Las Vegas, USA.
John Bailey, the superintendent of the Foothills School Division, where Roe worked as an educational assistant, released a statement expressing condolences.
"It has been a challenging time for our division, yet we continue to stand together and support one another. We have put our crisis response team in place and they will remain as long as is needed to assist students and staff," he said.
Roe's aunt, Val Rodgers, described her niece as a beautiful soul. "She was a wonderful mother and our family is going to miss her dearly," Rodgers said when contacted at her home in Brandon, Man., on Tuesday.
At least 59 people were killed and more than 500 people wounded by the gunman, who later took his own life. He was identified as Stephen Paddock, 64.
The other Canadians killed in the deadliest attack in modern US history were:
Some survivors in search of shelter as shooting spree started from a hotel room on Sunday night during a concert at Las Vegas hotel. Dozens of people died and hundreds wounded.
Klymchuk was a mother of four and worked at a Catholic school in Valleyview, east of Grande Prairie, as an educational assistant, librarian and bus driver.
A vigil for Klymchuk is planned for Tuesday night at 7:30 p.m. MT at St. Stephen's School in Valleyview.
McIldoon was a heavy-duty mechanic apprentice who was about to start trade school in the Okanagan.
At least six other Canadians were injured in the attack.
Speaking ahead of the first ministers meeting in Ottawa Tuesday, Prime Minister Justin Trudeau said he spoke to U.S. President Donald Trump the day before to express condolences after the attack, "as well as expressing our direct condolences to the families of the Canadians lost in that attack, and the many people injured while they were on vacation."