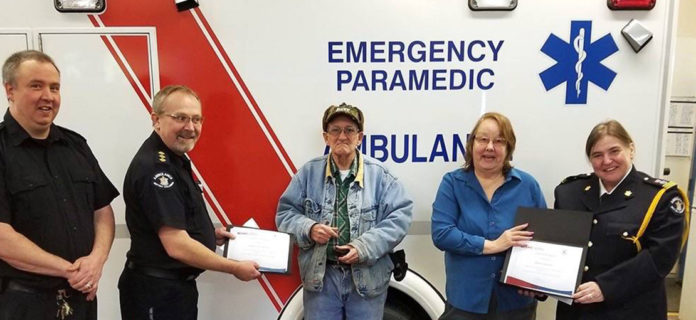 On her knees beside her husband, Diana Stephen pumped his chest as she administered CPR during the life-changing moments that saved his life back in 2015.
"It was the 911 operator who talked me through it," Diana said, recalling her somewhat frantic feelings that morning.
50 years ago Diana had only a vague recollection of how to perform CPR, learned from Girl Guides 50 years ago, but she followed instructions from a 911 emergency dispatcher as she knelt by her husband in the kitchen that morning.
"As your doing it, of course it's a life threatening thing, it was very emotional… quite scary," she said.
"But he's with me now," she concluded, and that's the crux of it for her and her husband Barrie, who have now been married for 56 years.
The most amazing part of the story is that Barrie also saved Diana's life only four years ago.
"It sounds like one of those fairy tale stories," acknowledged Diana. "It doesn't really seem real… he saved my life and I had to pay him back by saving his," she laughed.
The scenario was similar, but Barrie called on his Canadian military training to guide him through the CPR procedure.
It was in August 2011, and he woke up during the night to find Diana struggling to breath.
Pulling her to the floor, he gave her CPR and dialed 911 after he'd stimulated her breathing.
Diana was rushed to Mills Memorial Hospital in Terrace, and then to Vancouver General Hospital where she received surgery and was stabilized.
Now, just a few weeks ago, the couple honoured for their quick life-saving actions, receiving two separate Vital Link Awards from the BC Ambulance.